I think the roughness of their live shows is of course, very fascinating, even so, the sexy part of it is also a charming point of this band. For this month's issue I think it would be a good idea to hear from the about the word SEXY.
°ķ First of all, what type of man do you think is sexy?
£Ŕ£'£'£Ń°ß °ńHm, guys who look stylish, talk in a stylish way and have shiny eyes(laughs). I think there are a lot of guys like that(laughs). In photographs or on tv, when you can see a stylish aura around them, a mood.

°ķ Male artists you consider sexy?
£Ŕ£'£'£Ń°ß°°Well, I wonder, how can men like David Bowie not be sexy(laughs)? But to me, Bruce Springsteen is not very sexy at all(laughs).

°ķ Anii, are you aware of sexiness?
£Ń£ő£…£…°ß°°I don°«t think so.

°ķ Do you think SEXY is what a band like Buck-Tick has?
£Ń£ő£…£…°ß°°I think that is true more for Acchan and Imai. I don't think I am a type of sexy person.

°ķ Well, what kind of man you consider sexy?
£Ń£ő£…£…°ß°°I°«m not very sure, wouldn't that be like a person who girls look at and think "I would like to have sex with that person"? (laughs)

°ķ Like in women°«s magazines, when there are things like °»Men I°«d like to sleep with°… and so on(laughs). You said you think you're not a sexy person, but there are absolutely people who go to your lives and think that your seriousness while playing drums is sexy.
£Ŕ£'£'£Ń°ß Yeah, we°«ve seen people like that, I think. There are people who do think that I°«m sexy, aren°«t there? (laughs)

£Ń£ő£…£…°ß°°It's the both extremes. Before you said about David Bowie but of course there will be people who think Bruce Springsteen is sexy. But actually, I think people who are not interested in make-up or reject fashion in all ways can't be really considered sexy.

£»£…£ń£Ň°ß Me too, I°«m not very conscious of sexy either. More than putting on make up to look sexy I want to look pretty.

°ķ Before you get on stage, or stand behind a camera, do you think you change? From the real you to a another you, by putting make-up on?
£»£…£ń£Ň°ß Yeah, there°«s somewhat of that. But I feel it's more to understand myself.

°ķ For a band such as BUCK-TICK, do you think being sexy is something necessary?
£»£…£ń£Ň°ß I think we need it a little. I think Acchan has that kind of component. I never thought about things like °»I must be sexy°… on my own part. I leave that to Acchan(laughs).

°ķ So, Sakurai-san, what°«s your own definition of sexy?
£"£Ń£ň£'£"£Ń£…°ß A manly type of guy, someone who has a masculine glamour. But also, guys with a feminine-like style can be appealing too, I think. But, if someone is confident enough, other people who see them will naturally perceive something more. I think that can be sexy too.

°ķ Do you have a goal when performing or appearing in pictures?
£"£Ń£ň£'£"£Ń£…°ß People have each a different taste. Some people say wearing make-up is gross. In my case, when going on stage and other things, cosmetics are a way to disguise myself. In this way, I don°«t feel that I am living a single life. The me on stage is not the same me outside it. I think that°«s one of the coolest things, and it's better yet if sexiness shows through that. And sexy is just not limited to women, because when I do this I also want guys to think that I'm cool.

°ķ As for TV appearances, Imai and Sakurai have this sexy stage relationship, something we rarely ever see on other band live shows. In that way, is this °∆play°« calculated?
£"£Ń£ň£'£"£Ń£…°ß Well, I think for the TV appearances, to me it's something that doesn't do any harm or good. I°«d just like to give people a big impact with it. For some people it may make them feel thrilled, they can get excited. But on the other side, it may even give other people nausea. I don°«t really care what they are going to think.

°ķ However, there are the people who would do it and people who wouldn°«t. But to you, it°«s more like showing a sexy side to the audience, making them feel more aware of sexy.
£"£Ń£ň£'£"£Ń£…°ß Yeah, that°«s right. That is how I think of it, sexy is a fascinating thing.

°ķ Often, in B-T songs, there are parts with a lot of sighs. Did you receive this influence from someone?
£"£Ń£ň£'£"£Ń£…°ß Well, I had to find my own style. I just look foolish trying to be someone°«s copy-cat(laughs). While we are recording, I always try to sing in many different ways, so I can find what is perfect for each song.

°ķ Is there a singer you listen to and think, °»This person°«s voice is sexy°…?
£"£Ń£ň£'£"£Ń£…°ß I think singers like David Bowie, Iggy Pop and Peter Murphy and the vocalist of the Psychedelic Furs have something in common. I like their singing tones and voice qualities.

°ķ Not only the voice, but their smooth way of singing is also quite charming. Also, when you are on stage, and ask the audience, °»Everyone sing together°…, that°«s really exciting. Your stage presence has to be quite sexy too.
£"£Ń£ň£'£"£Ń£…°ß I°«m not sure about my own stage presence. But the sexy element is surely a plus. But I°«m also aware I might get called things like °»dodgy°… or °»odd°….

°ķ Imai-kun, what°«s your definition of sexy?
£…£Õ£Ń£…°ß°°I too, would say that there is a type of feminine sexiness and masculine sexiness. David Byrne, Peter Murphy are more of masculine type beauty. Boy George would be a feminine-like beauty. But, myself, personally, I am aware of my own type, it°«s more like a freaky, mad type(laughs). I°«d like to add more elements like these to myself.

°ķ For what you are on stage, and as for make-up, in what way are you conscious of it?
£…£Õ£Ń£…°ß°°When we were photographing for the new album, I thought the person who did our make-up did mine really well, and it was always something I was thinking of, so I tried doing it myself. It was even fun(laughs). I think make-up lets you enjoy yourself more.

°ķ Regarding overseas musicians. Aren°«t Boy George, and Dead Or Alive°«s Pete Burns, said to be bisexual? Speaking in that sense, do you think japanese musicians°« sexiness is different?
£"£Ń£ň£'£"£Ń£…°ß Some time ago I said to myself, °»You can be different on stage°…, but even so I continue to be habitual. In everyday life, I am proud mine isn°«t boring. I am interested in all sorts of things. If I were bisexual, or if at one point I wanted others to see myself as bisexual, I would surely express myself that way.

°ķ Well then, next. What kind of woman you think is sexy in the eyes of a man?
£Ŕ£'£'£Ń°ß °ń U°Ńm. I don't really have a defined thought of "Ah, this is a sexy appearance".

°ķ So, for Yuta-kun, a woman°«s sexiness isn°«t very important.
£Ŕ£'£'£Ń°ß I guess you can put it in that way(laughs).

°ķ Anii, in what way is a woman sexy?
£Ń£ő£…£…°ß°°Definitely it is in their presence. A nice voice too. It's said that Marilyn Monroe°«s voice was very sexy, wasn°«t it? Well then, their eyes would be an important point too(laughs). And finally, their style(laughs).

°ķ So are you aware of a woman°«s sexiness? You know, you can point it out.
£Ń£ő£…£…°ß°°I think it's a good thing if women are more of the erotic side. Recently, I°«m completely devoted to Sugimoto Aya(laughs).

£Ŕ£'£'£Ń°ß Where are you trying to go, saying that? (laughs)

°ķ From Hide-kun°«s point of view, do women need sexiness? Or it isn't?

£»£…£ń£Ň°ß I don°«t think they need too much of it. I°«m not too aware of it. However, gestures, body type(laughs) and other things°ń I°«m not too sure(laughs).

£Ŕ£'£'£Ń°ß It°«s so difficult to answer this°ń

£"£Ń£ň£'£"£Ń£…°ß I think it's better if it's spontaneous, like, out of nowhere.

°ķ As in someone who is not erotic all the time.
£"£Ń£ň£'£"£Ń£…°ß I think that°«s good, once in a while(laughs).°°Boundaries are good(laughs).

£Ń£ő£…£…°ß°°A different thing every day, like the menu of the day(laughs).

£"£Ń£ň£'£"£Ń£…°ß Okay, but seriously, sexiness is something the person is not aware of, it's quite a natural thing... It's not like you just look at someone and say "Look at that person, they're so damn sexy!". But sometimes, at night, that's a good thing to happen. (laughs).

°ķ At night?!
(All members laugh)
£"£Ń£ň£'£"£Ń£…°ß Ok, sometimes it's good in the morning too(laughs).

(All members laugh)

°ķ Well, next. What about Imai-kun?
£…£Õ£Ń£…°ß°°I think it°«s nice if a woman has sexiness. But if she°«s sexy all days of the year, then it°«s too much for me(laughs).

°ķ What part of a woman do you think is sexy?
£…£Õ£Ń£…°ß°°Well, I think it's a good thing when she is sexy but doesn't notice it. Well, her behaviour, and°ń parts(laughs).
£Ŕ£'£'£Ń°ß Parts? ! (laughs)
Q&A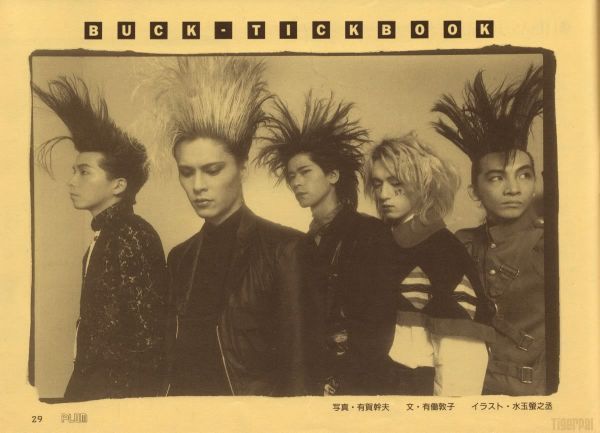 Your name
S: A-

I: Imai Hisashi

H: Hoshino Hidehiko

Y: Higuchi Yutaka

A: Yagami Toll


Birth date and age
S: 1966.3.7

I: 40.10.21 22

H: 1966.6.16

Y: 42.1.24

A: 1962.8.19 26


Place of birth and something characteristic of it
S: Gunma, there's various men*.
* famous men? he is strictly talking about men but does not specify anything else.

I: Gunma, there's a UNY*.
* supermarket company

H: Gunma°Ęhill temples.

Y: Gunma, Takasaki. Daruma doll

A: Gunma, Takasaki. Boowy, daruma doll, 2 giant statues


What kind of boy were you
S: Very obedient, introverted, reserved, dark personality

I: hehehehe

H: An ordinary boy

Y: Annoying kid

A:°°prominent (illegible)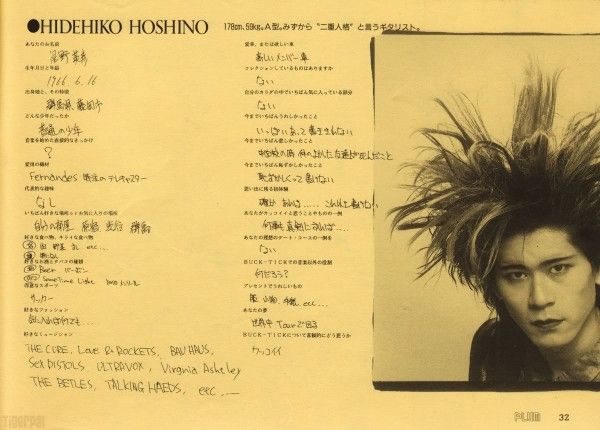 A reason that made you start music
S: I thought to be cool, I would start liking music

I: YMO and RC Sucession etc

H: ?

Y: Meeting Imai-kun!

A: Brother's death


Favorite material
S: None

I: P-project guitar

H: Fernandes telecaster

Y: Spector Bass
Trace Elliot Amp

A: Pearl set


Other hobbies
S: None

I: None

H: None

Y: None

A: Reading comics


Favorite place to be
S: Somewhere I can observe the night sky. A quiet place.

I: My room, Harajuku and a place where is not too crowded.

H: My room, Harajuku, Shibuya, Gunma

Y: Now, I'm still searching for it.

A: Gunma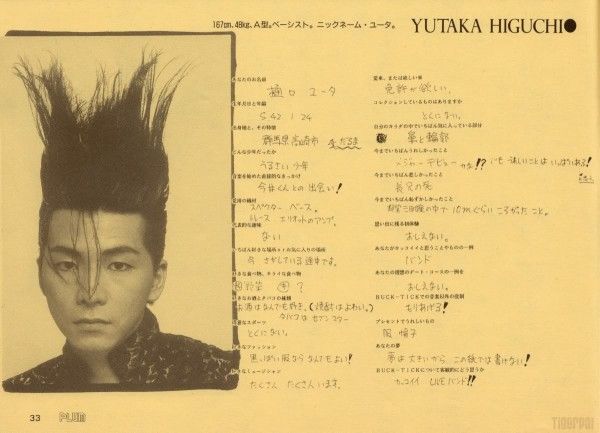 Food you like, food you dislike
S: Like: Sushi, curry, salad, omelette
Dislike: Shellfish, takenoko, eel

I: Like: Anything, curry, salads, mabodofu, hamburgers, sushi, fried eggs, beer, tsukemono etc...
Dislike: nothing.

H: Likes: Meat, vegetables, duck etc...
Dislikes: Nothing in particular

Y: Likes: Vegetables
Dislikes: ?

A: Likes: Udon, ramen
Dislikes: Liver meat


Drink and tobacco brand you like
S: Wild Turkey, Caster, I. W. Harper 12 year

I: Corona beer, Heartland beer, bourbon, sake.

H: Drink: Beer, bourbon
Tobacco: Sometime Light - Menthol

Y: I like any type of drink(I'm weak). Tobacco is Seven Star.

A: Drink: Beer, Ź™ųubrŹę—wka, Bourbon
Tobacco: Mild Seven Light


Sports you are good at
S: Football, volley, basketball, tennis, dodgeball, table tennis

I: none

H: Football

Y: Nothing in particular

A: Table tennis, baseball


Type of fashion you like
S: Long coats, boots, jodhpurs, flattering outfits

I: Various, suits, ties, skirts, nothing

H: Anything I feel like.

Y: If it's black, anything!

A: Military style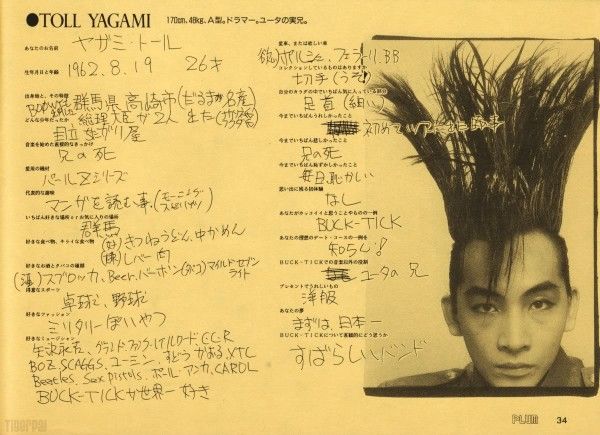 Artists you like
S: david bowie, peter murphy (bauhaus), marc bolan, (illegible), …ĻľľĶĢ≤ū(himuro kyousuke), ņŰ√ę§∑§≤§Ž(izumiya sigeru), many many...

I: rc, ymo, the cure, bauhaus, ultravox, kraftwerk, love & rockets, klaus nomi, john lydon, boy george etc

H: the cure, love & rockets, bauhaus, sex pistols, ultravox, virginia astley, the beatles, talking heads etc...

Y: Too many, there's too many.

A: ccr, boz scaggs, yuming,°°sudou kaharu, beatles, sex pistols, paul anka, carol.
buck-tick is the band i like best in all the world.


A car you wish to buy
S: Lamborghini Countach

I: I don't have a license

H: New Member car

Y: I want a license.

A: Ferrari


Something you collect
S: Nothing

I: Nothing

H: Nothing

Y: Nothing in particular.

A: Cut hair (lie!)

The part you like most in your body
S: Eyes

I: (scribble)

H: None

Y: Nose and silhouette

A: Ankles


The happiest thing that happened to you
S: Recording music, going on stage, performing

I: I forgot.

H: There's so many to write.

Y: "Could this be, our major debut?!" But there are many more things I think.

A: First time going on tour


The saddest thing that that happened to you
S: Father's death

I: I forgot.

H: Death of a good high school friend.

Y: Elder brother's death

A: Brother's death


The most embarrassing thing that happened to you
S: Will not say.

I: I was seen together with Yuta at (illegible).

H: Will not say.

Y: Falling down at a public place.

A: Every day something embarrassing happens.


Memories of your first time
S: none Too many feelings!

I: It happened.

H: Sleeping, that was... Won't write more than that...

Y: Won't say.

A: None.


An example of something you do that you think is cool
S: B-T on stage, magazines, records, tv

I: Living is funny, interesting and cool.

H: Anything I do I'm serious about...

Y: Band.

A: Buck-Tick


An example of an ideal date
S: Spinning around the universe

I: Food Ę™ beer Ę™ bourbon Ę™ let's go to bed

H: None

Y: Won't say.

A: I don't know!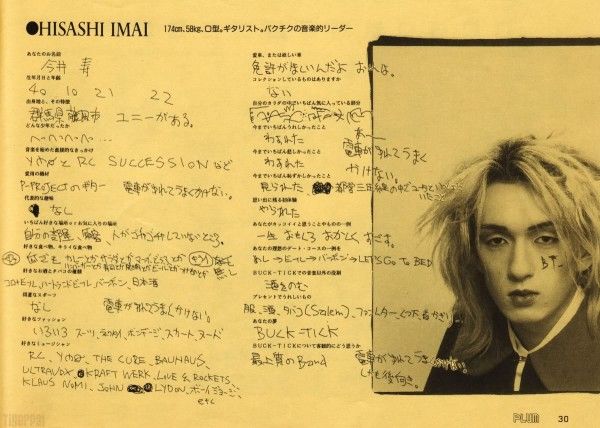 What is your role other than Buck-Tick's music
S:°°Influence others

I: Drink

H: I wonder what?

Y: Entertain!

A: Yuta's brother


Gifts that make you happy
S: Clothes - records - books

I: Clothes, drinks, Tobacco(Salem), fan letters

H: Clothes, (illegible), fan letters etc...

Y: Clothes, hats

A: Clothes


Your dream
S: Not a reality, things, places, things that could be done, things i'd like to do

I: Buck-Tick

H: Travel the world°°on tour.

Y: My dream is too big to write here!

A: First, be the number one in Japan.


Your thoughts about Buck-Tick
S: Very cool, I love them.

I: Highest quality band.

H: Cool

Y: Stylish live band!!

A: A great band