Tokyo Yankees - various clippings
These were originally translated by request, now public!
Extasy Summit Questions

1. What does the name "Extasy Summit" reminds you of?
Umemura(vo): Piggyback ride
Ami(b): Moving was difficult (but only for us)
Nori(g): Difficult.
Uda(dr): Ootake Makoto & the Budoukan.

2. What was fun about performing at Extasy Summit?
Umemura: Piggyback ride
Ami: The venue was spacious, no matter what I say.
Nori: Alcohol.
Uda: Playing a session with Yoshiki, hide and Pata.

3. What was something from Extasy Summit you can't talk without tears?
Umemura: Piggyback ride
Ami: George's neck was dislocated!!
Nori: Difficult.
Uda: When Ume played a cover of X. I cried because of that

4. After Extasy Summit, is there anyone you'd like to play a session with?
Umemura: Teacher Yoshiki.
Ami: Of course, hide-chan, Pata-chan, Yoshiki and everyone else.
Nori: Rie Miyazawa.
Uda: George and Hyaku(Ladies Room). Then, Mad George.

5. Say a few words about this immortal, daring Extasy Summit.
Umemura: Will we do it next year?
Ami: Was it really immortal?
Nori: Will it be difficult from now on?
Uda: We'll keep at it. From now on I'd like to perform at Tokyo Dome.


*******
When was the band formed?
Ami: I and Tohda and Uda gathered last year, on May and in March Nori joined us, and our first live was in July.
The latest member to join was Ume, right?
Ume: Yeah, that was June of this year. I'm still a newcomer(laughs).
What are the details of the 3 of you founding the original band?
Ami: Me and Tohda, we worked at the same place(laughs). It was just like "Hey, we should start a band".
But, at that time, Tohda was in a different band.
Tohda: Yeah, but I had just left.
Ami: Tohda was the bassist, yeah. I didn't play guitar, so Tohda, at that time only played a little. So I told him "Hey, why don't play guitar?", and he said "I'll play!"(laughs).
Tohda: That's how we started(laughs).
Ami: By the way, when Uda joined us, he was avoiding doing music.
Uda: My hair was long but it was black.
Ami: When he wanted to join I told him to wait 2 months and during that time for some reason he showed up with yellow hair(laughs).
Why did you think of starting to do music again?
Uda: I had some reluctance to give up the last band. So when they asked me to join I thought that it was m last chance. And then I just wanted to hold on to this chance without any regrets.
Ami: Kaaa! Don't make me cry...(laughs). Go ahead and publish it, all of us are moved to tears(laughs).
Then what about the details of the other two joining?
Ami: As for Nori, we were at Extasy Summit, and I came up to him and said "Don't you want to do a band together that's very rock and roll?". I told him that lie and he fastly joined us(laughs). Now he's having a hart time, like "I can play heavy riffs"(laughs). Ume was the same as Nori, we were mutual acquaintances. Originally we were punks so we used to play putting all of our hair up(laughs).
So after changing your lineup for many times, are the members in good circumstances now?
Nori: I am enemies with Tohda(laughs).
Tohda: Me too, I only dislike you(laughs).
(laughs). At the time you founded the band, what kind of music were you aiming to play?
Ami: Hm... Well, anyhow, I wanted us to be a anything goes band. With a hard sound, with a punk sound, things like that. Without being restricted to one genre.
Now, as 5, what kind of music do you aim for?
Ami: The songwriting part is entrusted to the two on guitar. But these two seem to be not very smart to do it. While they're eating ice cream they keep saying stuff like "good!!"(laughs).
Tohda: You said it, but I'm really not very smart(laughs).
Nori: Aim for music... I really don't know...
Do you have any pickiness about music?
All members: Yes, we do!
For example, what?
Nori: Anyhow, it's the loudness. If it isn't loud, it's no good, I think.
Ami: Many times I said "It's very like this/very like that", in that aspect, I think we're not picky. Just, I wonder if we'll grow to be some serious types. Even though we do use make up, we want to be a manly band. Well, on the contrary, maybe our case is that however much make up we use, we're a band that isn't made of pretty boys(laughs).
So it's not like you gathered and constituted the 5 of you consciously?(laughs)
Ami: I'm not this tall because I like it(laughs).
Well, aren't the other members scared of your height?
Tohda: He's tall, but he has nothing on his head so we don't fear him(everyone laughs).
Ami: Yeah, but truly, I was very little when I was born, and now I'm 179cm.
Well would you talk about what you'd like to do? Even if it's not about music.
Ami: Well, Now that's our big vocalist Ume(laughs).
Nori: Wait, I think Tohda didn't understand the question(laughs).
Er, well...(laughs) as members of Tokyo Yankees, is there a time when you think "I'd like to do this or that"...
Tohda: Nothing in special! To me, it doesn't really matter(laughs).
Ami: To not have interviews! Sorry(laughs). Well, musically, it's natural we will become better with practice, and apart from that, we want to become a band with a manly image. Then, being in a rock band, even if it has nothing to do with it, we want to be guys with common sense.
Tohda: To begin and end politely and such.
Ami: The way we talk, we want to make hierarchal relationships important to us.
Ume: I want to be a singer who doesn't sing ballads.
Nori: For now I think it's a good idea to stand out.
Uda: Me too.
Have you released a demo tape yet?
Nori: Not at all.
Ami: Because, when we reached a stage where I thought we were comfortable enough we changed members again and didn't have time to record, because we were searching for new members(laughs).
So what are the planned releases?
Ami: Our first is Rocking'F Phono sheet(On the edition of October). Then our songs are included on the compilation, "Emergency Express II/The End of Century Rockers", well, it's various things.
Ok, to finish, what is Tokyo Yankees' selling point?
Ami: Trickery! We make the audience and other bands think we are a completely cool band(laughs).
Ume: Well, if it gets empty it's a bad thing(laughs).
Nori: That's... Uri
*
of Mandr...
Ami: That's Uri Kawamoto! The one you're thinking of.
Ume: These guys are hopeless(laughs).
*('Selling point' is a word that is written as 'uri'.)
*******
The live on Rokumeikan last year, on December two was sold out, for the mighty Tokyo Yankees. These lives are so extreme that not so many people can stand it. In fact, it happened that because of the heat and their enthusiasm, many girls fainted one after another. Because the all-country tour was favorable, they are planning to release an album on summer. But, despite their extreme image, it is said that on stage, the members were teary-eyed from so many emotions...
You said you were nervous for this.
Nori: It was the first time we were doing something like it. Because, every time before the live, we were photographed on the stairs of Rokumeikan.
Ami: It was a bit embarrassing.
Do you think the band will become big now?
Ami: I wish it does.
Ami-chan said before that on this live you got all teary-eyed.
Ami: Yeah, it happened. Because when people say 'a sold out live at Rokumeikan' I always thought of the people I don't know who I admire, but lately it's been Ladies Room and Virus and they're our companions since the old times. I was thinking it was going to be frustrating but everyone came along and I was so happy. And they said "Hey, this will make everyone cry" and i was thinking that I was not going to cry, absolutely not. But on the other hand, while I was thinking of that, I was already struggling. I was very moved.
But you really don't seem to be the type to cry.
Ume: If people reveal that we cry, we'll get angry about it(laughs).
Ami: It's just that some make up got into my eyes and it was painful.
So how was before the Rokumeikan?
Ume: Even though it was a complete mess, I think it was interesting. I think It's not like a common heavy metal show. The audience too, I want to find a way to interact with them properly. But, Tokyo is still very calm, even now.
Ami: Meaning, the supporting audience were only the ones on the front.
Ume: And then, the audience in the distance. there seemed only to be some guys who were 'posing', but those who were enjoying the show made me happy. I think maybe of 300 people, 250 were having fun at the show. We'll work hard to make the leftover 50 people enjoy themselves.
Nori: Some people may even say that we are unlucky about fans, but we were moved about so many people coming to see us. If we make our show longer, we'll make them 'suffer' more, even if we don't have enough songs... On the next live, we'll do that.
Tohda: Me too, I wanted to make them 'suffer' with a longer set.
You wanted to make them 'suffer'?
Tohda: They suffered. But I'm more concerned about whether the next performance is going to be sold out or not.
Uda: But I think most of the people who were there went to see us. It was the first time to do some things, so I was very embarrassed. Like, the drum solo, it was the first time. And because it wasn't well decided, I failed. I was very tense, but it was the best.
You didn't play the drum solo on other tour locations?
Uda: I did it from about 5 times. But all the times, people seemed to be excited about it. They were all watching quietly thinking "that must be hard".
Ami: It's a curious thing to see people waving their heads along.
Uda: I was worried they wouldn't.
So, how was the tour?
Nori: Anyhow, we drank every night.
I heard you drink a lot.
Ami: There's a rumor that we drink in a certain way... It's partially true(laughs).
Tohda: After, we went to Uda's room and every night he put on erotic videos.
Ami: I was making a call to the live house, and while waiting I could hear the girl moaning "Aahn"(laughs).
Uda: Well, but in the end all of you gathered in my room.(laughs)
Nori: Anyway, the lives were fun. In other areas it wasn't as full as Tokyo but everyone had fun.
Ami: Everyone was very enthusiastic.
Ume: Every live house went, many people said it was a long time since they enjoyed themselves so much.
Ami: But we have some bad luck with the audience, speaking generally. In Kyushu even Anchan of the curly hairstyle office* liked our show.
*[A delinquent or person associated with mafia]
Were there a bigger male audience in the countryside areas?
Nori: Yeah. Even the livehouse people were like "Wow, there's so many more guys here".
At Rokumeikan, wasn't there a fight of the girls in the audience?
Nori: There's always.
Ami: These girls should calm down. If they calmed down, they wouldn't be so violent and wouldn't come to the livehouse to pick a fight.
Nori: Personally, I want to the band to appeal more to males, but if I say this Ume will get angry.
Ume: I like girls better.
Tohda: Me too.
Nori: Well, saying that, I do like girls too.
Ume: The only one who likes males is Ami-chan(laughs). That's why, I'll make them gather first row where Ami-chan is.
Ami: Don't come near me.
Nori: Don't even think about it, because we're side to side(laughs).
Ami: But anyway, it was a fun tour. We didn't expect so many people to come. At Suwa city, you can say that it was the same number of people as that of a Jun Skywalkers show.
Nori: At Niigata, no matter how many times, people kept asking for encore. At Okayama and Tokyo, a certain popular band only got around 30 people to watch their show, and we were thinking we would only get 20, but we actually got to around 70 or 80 people.
Ami: For a band of our class, I think it can be considered a great success.
This is the first time you did a nationwide tour?
Nori: Yes.
Ume: When I was in another band in the past, we played at some places but not in a scale like this.
Tohda: Me too, we really didn't play anywhere except for Higasimeihan.
So, did you think that on a tour like this you would get fans to come to the lives?
Ume: No.
Ami: I can say I am confident about it.
Tohda: Well, in any way that I look at it, I really don't know(laughs).
Ume: But, even if our fans have increased, we haven't changed, we are still doing the same thing.
Ami: Even in we started to quickly lose fans, we probably wouldn't change.
Nori: I think we can be considered positive punk now. While everyone is wearing the one length haircuts with braids/dreads, I think we're the only band now with our image. It's not like we have no interest at all in what is in fashion but we don't over-do it. On the contrary, perhaps our style is very fresh. I don't really know.
So far, have you had any difficulties?
Nori: I think what has been hard for us up to this moment were things like getting people to come to our lives but not being able to impress them. I don't think we've had any real difficulties really.
Ami: Touring has been exhaustive, but that doesn't change us.
Ume: The way we do things too.
Ami: Neither our technique(laughs). Of course we do sometimes think like other bands "we'll do a full livehouse", but we don't really worry about how we're going to do it. Doing only what we'd like to do is a good thing, but we just can't really only do it, but we think it's the ideal thing. That's why we're happy and surprised to see that the number of our fans grew so much but at the same time, it doesn't confuses us.
How are you creating your songs?
Nori: In the beginning, it was Tohda and I who did the original songs... While I was practicing, I used to get some ideas, so I started to assemble these ideas and we'd get the band to do the songs.
Tohda: I'm quite irresponsible with it. But recently I don't play guitar at home so I can't really compose(laughs). When I think I'll compose I do it very carelessly. I'm slow to think about it(laughs).
When you are composing, you do it in one go?
Nori: Not at all. I just keep composing.
Tohda: Approximately(laughs). But I think everyone is very serious.
Nori: But there are many songs that weren't used(laughs).
Ami; I don't compose more than like, one song each year. And when I turn the songs in, they say the songs aren't good enough(laughs).
What about the vocals?
Nori: I'll leave that to our vocalist.
Ume: I'm... irresponsible too. I try to sing in a way that doesn't show that I copied the style of the people I like and have been taken pictures together with(laughs).
Ami: That's right.
Ume: When I sing, I think if it's going to sound good. But I don't think beyond about the people of these other bands(laughs).
Tohda: Me too.
Ume: I'll try my best from now on.
What are you singing in your lyrics?
Ume: Well, there are various things but I think it's most songs that have to do with our band's image and style. Even though, I think they don't really have a direct, straight concept. I think, even if I explained it, even to some of us in the band, and to other people, I can't really know what extent they'll understand. In outline, it just really means many things.
Does everyone know the lyrics?
Ami: I do. Lyrics are something that interest me so I look at them. I am the type of person to like a band because of the lyrics. I think Ume's lyrics, even to the band, are of a good taste.
Ume: (Talking to Tohda) You don't know the lyrics, right.
Tohda: I don't. Nori, do you?
Nori: I know them. It's because Tohda doesn't know english.
Tohda: Please translate them for me.
Ume: They're all translated.
Tohda: I don't know about that(laughs). But, the singing impresses me, even though the contents aren't really of concern to me.
Ume: If we record them, people may have it in mind, but when we perform live, I don't think anyone knows what I'm singing. During a live, I think it's a good idea to say it's another instrument with the others, but on the other side, I would like people to listen to it as one thing.
Aren't you releasing an album this year?
Ume: It's not like we don't have lyrics, but when we release an album, we'll have the lyrics included because I want people to know what I'm saying. But when we perform, I just want people to be moved by our sound.
When you rehearse, usually, are you all this lively?
Ami: It's always like that.
Tohda: It's quite lively.
Nori: But today it was quieter.
Tohda: Me and Uda are sick with a cold now, but next time we'll show you our true characters(laughs).
*******
Nori: To us, even now it doesn't feel real. Even after [he] is not here anymore, it doesn't feel like it.
Uda: It's just like he simply went on a long trip alone(laughs).
Nori: One month before he died, while on tour, he went to Kagoshima on the car that carried the equipment(laughs). So it was really an even that happened in a second of time.
This way, the Tokyo Yankees history could be made into a movie, to Ume this would be a good memorial service.
Nori: Yes, it would.
For Yankees now, as 3 of you, are you going to look for a new vocalist?
Nori: We don't have any intention to(laughs). I have the feeling that if anyone new joined, they would quit soon.
Yoshi: There's a family component in the Yankees, I think if anyone entered in our "peace" it would become a very strict thing.
Nori: Of course, if there is a good person who is suitable, we'll think about it.
A good person, you mean, a fairly daring person(laughs)?
Nori: Yeah, like that(laughs). Until we find someone, I think Yoshi and I will continue to scream at the lives. Even though it's the same songs, Ume sang them differently, so this is how the 3 of us will do it.
Uda: Me too, recently I've even been made to sing the chorus(laughs).
Nori: 'made to'... What a bad reputation...(laughs)
Uda: Singing the chorus of our songs is great trouble(laughs).
On the new DVD, musically, we can certainly see the transition of the band. From now on, what direction are you going to take?
Nori: I don't think it's going to change very much. We have rock songs and we are aware that we also have metal songs, and we'll just turn to continue to do it anyway. It's not like we feel that because we are 3 now that we'll do things differently. We don;t have the feeling that our next work will be a calmer work(laughs).
Originally, did you think you would be still in this band after 20 years?
Nori: When hide-chan died, one time, I talked to Ume. It was around 10 years ago, but he said "If anything happens, just continue as it is". Of course, it doesn't mean he was thinking of anything, but he did think of the possibility. And if us3 weren't in the band now, we'd just have turned into some bad old men(laughs). As for one thing, if we stopped doing something so steadily, it would just be bad.
How was the editing for the live video? Did you cut off bad parts and such?
Yoshi: No, we didn't remove anything. At first, we thought we'd do a collection of interesting moments, but then we put in also the performances and other footage that stops in half. But to put that is something we have no control over(laughs).
Nori: To put in footage that stops halfway is a stupid thing to do(laughs). But of course we'd add more if we had the time.
Yoshi: But doing it properly, it has become very extensive, because there are many songs all together.
Nori: And even if a performance isn't that good, if it moves one person to be surprised, we are thankful to have included it.
There's extensive content, but what can you say that are the highlights?
Yoshi: I think the whole thing is a highlight, but to say, I think it's our audio commentary, the 3 of us. Talking is not our strongest point, but we did our best to talk(laughs). Another thing, not more of a sight but more to hear, is when the other bands play our songs, it's a good part.
Nori: We added the Blitz show footage, and I think that is a pretty highlight. That's when we changed to the short hair too. We went to great lengths to borrow that footage, so it's a precious video.
Yoshi: That image change was very extreme. That and getting fat too(laughs). I mean, me(laughs).
Nori: When you joined you were skin and bones but now you're a giant fattie(laughs).
Uda: I think it's easy to understand the parts when the band play the same songs but with different members. That is a nostalgic thing for me to see.
You also included footage from when you went to America.
Nori: That was shown in tv, but we also included some parts that weren't broadcast.
From beginning to ending, have you put any footage of the band as it is now? Like, as to mean how you are living now?
Nori: We wanted to do that, like to show people that "this is now!". After it has become the 3 of us, we're gradually getting better and from the time we compiled the DVD we're even better now.
Uda: I think the whole compilation is interesting. It's a way to understand our history.
We said it briefly before, but there were plans for an album?
Nori: Yeah. We wanted to release it in 2008. We were planning some concerts too, but then last year we really didn't want to perform. Because of Ume, many things happened and we had to think about it.
Watching this DVD it doesn't feel like he is not here any more... Do you think there will be time to make this more than a DVD box set?
Nori: Yeah, yeah(laughs). We hadn't time to compile the materials, and we really wanted it to be out by summer.
When choosing so much of these extensive materials, what was the most important criteria?
Nori: It was based on rarity and what the world hadn't seen yet, but when seeing, it would make people feel nostalgic too. Yoshi brought some of these to be chosen too.
After Yoshi got in the band, what do you think is the most objective point?
Yoshi: I think the most direct parts are when I wasn't in the band yet. Even though I wasn't a member I was always close to them.
Uda: Watching the videos, we were so young. Even though there are very emotional parts, there are parts I see and think "I don't even play these drums any more"(laughs). Even now, I play these same songs, but the feeling has changed. Even the way I move is different. But I don't feel I can say that it feels fresh to watch these videos because even now I still feel fresh.
Besides the videos, you included interviews, and there is a shocking talk from Uda. Did you think about quitting being a musician?
Uda: Before I was in the Yankees, I really thought about quitting(laughs). Speaking about it now, it is included. But when I thought about quitting, if I didn't do anything that wasn't related to music, my life was really boring. So I thought I couldn't go on like that and right that time it was when they called me.
*******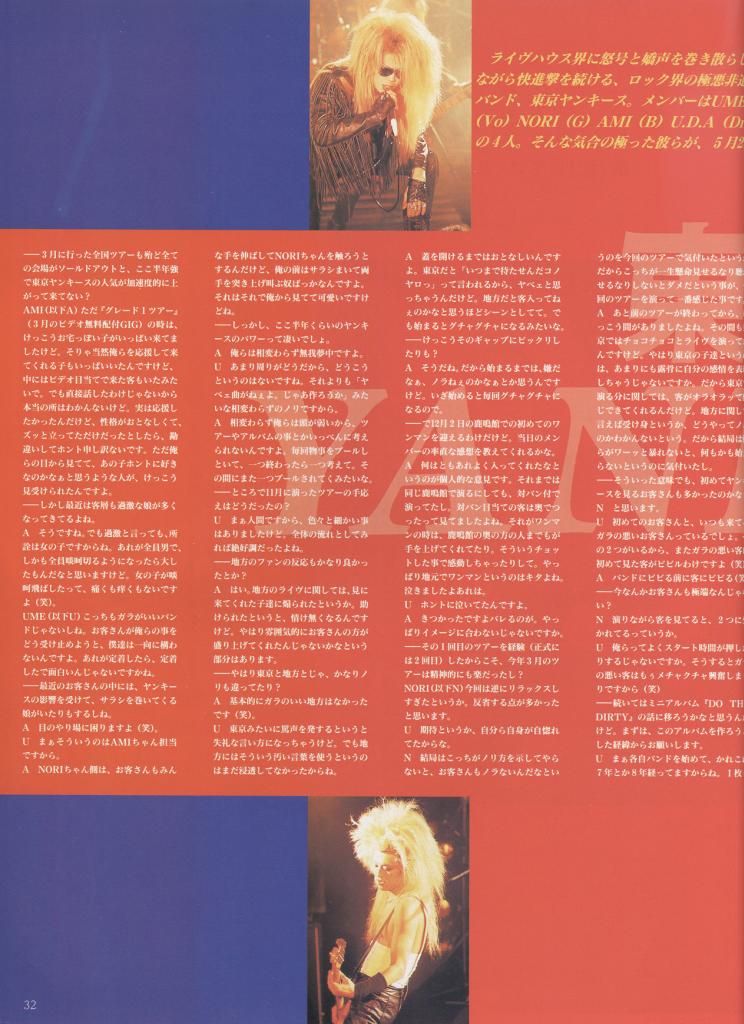 In March you went on a national tour and almost all of the dates were sold out, on this period of half year, don't you think your popularity has been rapidly rising?
Ami: During the 'Grade One tour', there were a lot of fanatics who came to see us, that's all. Of course, naturally, there were people who came to support us but there were also other people there because we were doing a video. It doesn't mean I was speaking directly, but it's that I don't know the place. The truth is, maybe they came to support us, but they had a calm personality because they just stood there all the time, but if we got a wrong perception, we're truly sorry. It's just that in our eyes, we were wondering if these people really liked us, so we assumed these things.
But to talk of the people who attend the lives, a lot of them seem to be extreme type girls.
Ami: Yeah. But, even though they're extreme, they're girls after all. If it were all men, to scold them would be a big deal, but since they are girls I don't think they would care a second(laughs).
Ume: We're not a band of a certain nature. If people think something about it, we don't care about it. If we were settled for a established image, I don't think it would make us interesting.
Lately, because of your influence, there's been a lot of girls in your concerts wearing *sarashi.
*(sarashi is usually a white fabric that is wrapped around a person's abdomen, it is linked to street gangs, women usually wear it on the breasts)
Ami: It's a trouble for me because I don't know where to look away(laughs).
Ume: Well, that is Ami-chan's responsibility.
Ami: On Nori-chan's side, all of them are there with their hands trying to reach him to touch him, but on my side there are just girls with the sarashi, screaming and with their hands up. But however I see it, I think it's cute.
But you know, this half year has been very powerful for you.
Ami: We're very absorbed into work, like always.
Ume: We don't have a tendency in our circumstances. More than that, it's more like we want to make songs that are better every time, it's always like that.
Ami: We don't think any time of tours or albums, because we're stupid. Every time, when we save money for something, and then it ends, we think of something. And meanwhile, we start saving yet again.
By the way, on the tour performance in November, how was the response like?
Ume: A lot of things and details happened, but to say as a whole, everything went perfect.
So, the reactions also went well with the fans of countryside areas?
Ami: Yes. Concerning the live, maybe I should say the fans who came to see us stirred us up. To say that 'we were saved' would be shameful. But there were times when we thought 'are we doing something wrong?', concerning the audience's excitement.
So the lives in Tokyo and countryside are different in excitement?
Ami: Basically, the countryside lives weren't very suitable(laughs).
Ume: To say it's like the crowd booing us on the Tokyo live would be a rude way to say it, but the countryside area was not yet using abusive language.
Ami: Until it started they were behaving well. In Tokyo they were saying things like "How long are you bastards going to keep us waiting?!" So we thought "This is bad". In countryside we thought no one would come see us. But when we started the place became packed.
So you became surprised with that gap?
Ami: Yeah. Before we started we always thought, "ah, they're not going to like it, they're not going to get in the spirit". But every time we started it would get full.
So on the December 2 show, at the Rokumeikan, it was the first time you performed as the only band. Tell us honestly what were your feelings about it.
Ami: My personal opinion is that at any rate, a lot of people came to see us. We performed at Rokumeikan before, but it was with another band. We watched the fans of the other band. When it was our time to perform on our own, the people who came to see us were raising their hands for us and such. That moved me emotionally. That was because we were performing in our hometown, as a single band. It made me cry.
Ume: It really made me cry.
Ami: That's going to show how intense it was for us. That sort of image doesn't suit us.
Because of the experience of this 1st tour(officially it is 2nd), did you have fun, emotionally, on this year's tour in March?
Nori: On the contrary, I think this time was very relaxing. I think there were many points of contemplation.
Ume: About the expectation, it is because we have pretensions.
Nori: This time we noticed that after all, if we don't show excitement, then the crown won't show excitement either. So we're showing them, and making them listen with all of our might because if not, it won't be good, but performing this time, it was when we felt the best.
Ami: After the tour ended, there was a considerable gap. But during that gap we performed a few times now and then in Tokyo. The people in Tokyo really didn't show us their true feelings. So playing in Tokyo it was more like they were hurrying us. On the countryside they were more passive, so we didn't know what to do. So if we don't stir them up, we noticed that it's like the show didn't start.
Saying that, do you feel that most of the people were coming to see you for the first time?
Nori: I think so.
Ume: Between the audience who is there for the first time, and our regular audience, there is a difference. When the first time audience sees our regular audience they get quite surprised(laughs).
Ami: They get the shock first rather than us(laughs).
Is your audience that extreme now?
Nori: While we're performing, if we look at the audience, we can tell the 2 groups apart.
Ume: There are times that we extend the start of the show, we keep the audience waiting, right? So when we do that, our regular audience gets super agitated and such(laughs).
Now I think it's time to shift the topic to the new mini album "Do the dirty". Please tell us the details of the making.
Ume: Well, it's been around 7 or 8 years since the band actually started. We thought we'd like to make something like this album since the start. So, thinking about it, the talk of CD came, and it was like throwing food to the carps in a lake. As soon as you throw it they just get really excited.
But when you talked to us the other time, didn't you say that you wouldn't work on it until you were in a convincing condition?
Ami: It was a talk from Extasy, before Ume joined, that we wouldn't. Every time there was a talk, we refused. But after Ume joined, because we thought the band was settled, we are now releasing it.
This time, the selected songs are all live favorites.
Ami: Yeah, just like that.
Like, the songs are a reflection of you.
Ami: More than that, it's because we can't do anything else(laughs).
Ume: Saying that, it's because we didn't want to record something we couldn't perform live.
Ami: I think, if it wasn't for the sound, the audience that comes to support us up to this moment, would come to our lives because they have fun. That's why I think we don't need any bad tricks. That is also why we ditched plans for a special edition album.
Because it's long awaited for, won't you tell us a little about the songs in the album, the impression of them?
Ami: Uda-san, what do you think of the first song?
Uda: I don't like it.
Ami: What are your impressions of the second song?
Uda: I don't like it.
Ami: And the 3rd?
Uda: I don't like it.
Ami: What do you think of the album?
Uda: I'd like to record it all over again.
(All members laugh)
Ume: This time, there was a high degree of compromise in Uda recording the drums part.
Uda: I'm not pleased with all of it. It's like an ordinary thing, and because I am timid, I couldn't do my best at it.
Ume: So, how about the completed album?
Uda: I like it.
All Members: Yeah!
Ami: I think we now have the desire to re-record, at this point. But even so, I really like the record.
Ume: Our records have nothing to do with the lives.
Nori: There are many points of consideration, something like that. Even I am aware of it.
But even if there are many things you'd like to do over again, when you finished recording, you felt a kind of satisfaction with it.
Ami: Naturally. Because of course this is an album, and even with some things, we were pleased. Next time we can record another album, we'll make an even better album than this one, I think.
Ume: I mean, maybe the level of our live performance and recording performance walk hand in hand. That is, if our lives are good, then the CD recording will also be good. We don't have the spirit of "Let's do a really good recording for the album". From now on, every time we make a record, it will be just like how we perform as if we were performing at a live.
Ami: If the lives go well, so does the level of our recording performance.
While we are at it, why don't you introduce the songs?
Ume: First is "Dive Into Field", it leads the record.
Ami: As for performing, I think it is suitable for the opening. It's a focal point.
Ume: The second, "Gambler" is an old song. I used to perform it with Nori-chan in another band called Guerrilla. It's a song we play since then. But as always, it hasn't become very well done. Then, the 3rd "Rat Race" is the only song in this album that master Arayama did for us.
Ami: This song, we wanted to make the chorus the best part of the song. I think it's a song that will make the audience scream along with the band.
The negotiation during the intro, the intimidating sense of it is so cool.
Ume: We decided to do that during the recording. It's fitting for this song, and there wasn't another way to start it. It's Arayama's way of talking. Then the 4th song is "Let Me Go", which is the song that has the most sense of speed on this album.
Nori: I think it's the only one where the speed came out(laughs).
Ami: It feels like we could capture the essence of punk. The idea of punk that some kids have today is just totally different.
Ume: It's a song that has a charm in the past. That is master Udamura's speciality.
Uda: I don't like it.
(Everyone laughs.)
Ami: The 5th song, "Good for Nothing" is a song with a big wave motion to it. Comparing to the other songs, it's the one where the audience does should do, like, a big wave for it.
Nori: 6th is "Hollywood Heart Breaker" is the song we'll play last at lives. Sorry, we like Motorhead.
Ami: The last portion isn't a rip-off, we just did the same thing as Motorhead(laughs).
But considering the album title "Do the Dirty", it's perfect fitting for the band's image.
Ami: There was a consensus between the band to insert the word "dirty". We took advices on many things and ways to do it, but finally we came up with it.
Ume: At the beginning Ami-chan said he wanted to put "deer"(laughs).
Ahaha. So, last, please give us a few words about your feelings.
Nori: Our audience taught me so many things in the last tour, so this time I will do my best to show all that I learned.
Ume: The national tour of November was really just a "hello". Now if the excitement goes like it was, I won't accept it.
Ami: We made a CD, but the only thing that really matters are the lives. Lives are our main thing, if you are near a spot we'll tour, then come see us please. Because we won't disappoint. And continue to come see us until the day we disappoint you.
Uda: We were a group of 5 who are 4 now, so people could say that our music also lost something, but the truth is that we're just as powerful as 5 or more and we're really looking forward to what's next.
*******
In succession, during last year, Tokyo Yankees went to America for the second time. They departed from Narita Airport on June 8. This time it was for the recording of vocals and guitar, but they also took with them various equipments and luggage.
Their lodging was located in the suburbs of Los Angeles, in a certain apartment, which in Japan is called a weekly mansion, a high class place with high scale refrigerator, microwave, oven, toaster, juicer, coffee maker, dishwasher, various cooking utensils(more than large scale, they are complete sets), all daily necessities and fully furnished with electrical appliances, living, dining, rooms(of course including television and video) and a free pass to all residents to a pool, jacuzzi, sports gym and this great area is very like the circumstances of a super resort. Are the raging waves of Japan there? Is the rhythm session, who have finished their parts already, testing the grounds of a foreign country? Maybe the enthusiasm is mistaken from the melody session. Anyway, the Tokyo Yankees are going in their own pace. To get around in such a large country, a vehicle is necessary in American grounds. The 2 rental cars are driven by Ume and Ami who have an international license. That day, Pata of X Japan also happened to arrive, so he came to hang around, and they drank until late at night(or maybe, early in the morning) and this is how Tokyo Yankees started their recording life in America.
After 2 days, they entered the studio because of engineer customs and started to record the guitar parts right away. In a corner of a very quiet residential neighborhood, where dozens of cars are parked, there is the private recording studio. It can't help but make you wonder if it's really ok to make such noise(sorry!) at a place like this, but in the case of American houses, each is precisely soundproofed. In the garden there are a lot of chickens and their baby chicks, inside the house there are two large dogs. There is an airport near the house, so during the day, without stopping, in a period of 5 minutes, planes and warplanes fly, as if they're flying just above your head, all the time. Outside there are also wild birds and squirrels we're not used to see, moving very fast, and somehow it is all just America. When the sound agreements end on studio, Nori starts to record, finally. Even though there is an english interpret, the language gap does not seem to be a problem for engineer KC
*
(who is far from the image of funky type american, he is a reserved guy of few words), who has been an acquaintance of the band since their last album Ghost Rider and also worked with a band Tokyo Yankees are fond of, Motorhead, because of their taste preferences musically, their communication seems to be mutually understood. Their communication has crossed the barrier of words, so it's necessary to make a record that's even more memorable. This time the recording seems to be going well, you can just tell by their faces. When Nori has finished recording the backing for the many songs, now it is time for Ume to start recording the vocals.
* [I don't know how to translate his name precisely to english?]
This time, they are recording 12 songs, and all of the compositions are just new songs. Looking at the process, the structure of the songs are made of the rhythm section's overflowing driving backing and then gradually modeling with guitar and the finishing touches of vocals, to watch this is very thrilling. Comparing with their previous works, musically, not only in width but all faces of their music has gained a scale up, sometimes one may not think that they used to have a very "violence" type image, but now it has increased too in a subtle way.
In the middle of summer, the sun is shining incessantly outside and the other members sunbathe while waiting for the songs to be finished. Before going to the studio, Ami and Uda have been going to the swimming pool and gym in the morning, getting a suntan since the last week. They have been also going to the supermarket to buy food, and the refrigerator is always full - you wouldn't think they would be having this kind of life in Japan(laughs).
In the middle stage of recording, while they are eating, KC, who has had a good idea, asks Ami if he wouldn't like to re-record a bass line once more. Ami says with interest that he would like to try it but they have surpassed the two weeks period of recording, and every day they are recording until late at night and unexpectedly, due to this, the equipment suffered of overwork, and after all, it happened that to Ami's chagrin they had to carry the chorus recording to the track down studio.
The following day, the transition to track down studio started. In America, it is natural for restaurants to be a smoking prohibited area. Also in the studio it is prohibited to smoke, but considering the band, they were allowed to smoke in mixing room and a small booth. Because they have to spend so much time in the studio, the band sometimes relaxes laying down on the floor, and we hope that the other people who see them like this won't think "Japanese people are so ill mannered!". After spending time recording the chorus, when the recording of the songs was completely done, everyone was terribly exhausted. Everyone is looking forward to the results of such effort.
The engineer was now working for several hours on the track down of the songs. In this interval the band went out shopping. Ume and Nori bought iron weights at a sports shop. The reason was because of "The food in America that you can't just make light of". The weights are heavy but so are the calories, and to make things worse, when they get stressed they eat anything in front of them(What they like to eat a lot is sold at Seven Eleven, Tortilla chips with nacho cheese and meat sauce, when they come back to the apartment, these tortilla chips are indispensable for Ume in particular), this was a plan to reduce weight and recover physical strength. In their spare time they did training like squats, sit-ups etc. But it wasn't determined that they should return to their weight at the time of departure until they came back to Japan... On a sunday when there was no studio work, the band and staff went to play on a huge amusement park called "Six Flags Magic Mountain". The rides were only roller coasters. Also, Ami and Uda were the ones who stayed playing from afternoon until closing time at about 10 PM(Saying that, until they got to the rides it was 10 minutes and also several minutes of waiting time). Everyone else stayed no more than one hour after being immersed in this sense of freedom in a long time.
After a month-long stay in Los Angeles, All members returned safely, with the satisfaction of a new work. The title of this new work is "Vacate Your Useless Brain"... The meaning is what they told us in an interview earlier ago.